How would you feel if Politicians started ending up in jail for taking actions which violate your Constitutional rights?
By D.R. Young,  author of The Political Spectrum: Freedom vs. Enslavement
How is it that your rights can be violated with no consequence to the offending politician or government agent?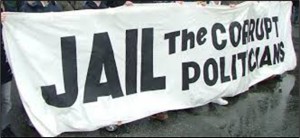 There are two reason why a politician might end up in jail.  The overwhelming majority of those who have, committed crimes in their private life; drugs, prostitution, tax evasion , etc. These are criminal acts which any U.S. citizen could be prosecuted for.
The other way a politician could find himself in jail is for committing a political crime; or can he?  Political Crime is a term you may not be familiar with. According to the National Criminal Reference Service;
The political criminal is defined as an individual who, motivated by his conviction, commits an unlawful act designed to attack the social structure to bring about a reorganization of the system.
Lets see that again (more…)